The proud story of the Canadian to the Toronto Raptors (Part 1)
As the Raptors become the sole representative team for Canada at the top NBA basketball tournament in the world, there are plenty of stories to show Canadians' expectations for this collective.
Indeed, in the NBA Play-off last year as well as this year, in the rows of the Air Canada Center during Raptors matches, it is easy to see long rows of red maple leaves in the back.
This is also a symbol for Canada since the year 1,700. When the Raptors come on the pitch, honor, and responsibility are weighed down by the expectations for them not just being a regional representative in the NBA basketball tournament.
Representative basketball team of Canada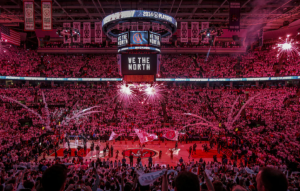 The Raptors were formed in 1995 with the Vancouver Grizzlies during the NBA's expansion into Canada. However, they became the only Canadian team when the Grizzlies re-established in Memphis, Tenessee (USA) to become the Memphis Grizzlies.
Someone said Canadians are not too crazy about basketball, this is not entirely true. It can be dull, but it will receive great expectation and attention once there are teams that can compete with American teams. If anyone needs to support this point, they can find many stories from the development of the Toronto Raptors.
In the past years, Canada had the Toronto Huskies as the member who competed in the American professional basketball tournament. In 1995, the Raptors and Grizzlies were formed as two teams that were part of the NBA's expansion campaign. The point of conflict comes from the first step is the name, logo design, and image for Toronto's representative team.
Activities to commemorate Canadian basketball achievements are still often held
Initially, the opinion was that it was advisable to use the name Huskies (Husky dogs) to revive old pride. But then, the team leaders realized that this image was too overlapping with the wild wolf of the Minnesota Timberwolves.
They decided to make a complete change by holding a contest within Canada to find the most suitable logo. Through more than 2,000 samples from dragons, scorpions, lynx… the last choice was the Raptors, which was completely announced on Canadian national television on May 15, 1994. Raptors are known as small predatory dinosaurs, inspired by the very famous movie Jurassic Park.